Attention A T users. To access the menus on this page please perform the following steps. 1. Please switch auto forms mode to off. 2. Hit enter to expand a main menu option (Health, Benefits, etc). 3. To enter and activate the submenu links, hit the down arrow. You will now be able to tab or arrow up or down through the submenu options to access/activate the submenu links.

Spasticity

---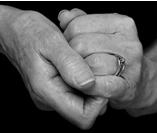 Spasticity is a condition in which muscles become stiff or rigid. The muscles resist being stretched, which limits movement. Spasticity can develop in any muscle in the body. It is most common in the arms, fingers and legs.
Why Is It Important to Get Help?
Spasticity develops slowly over weeks or months. It ranges from slight muscle stiffness to muscle shortening. When the muscles shorten, the joints can "freeze" into position. This is a painful condition called a contracture. Contractures prevent normal movement and interfere with doing daily tasks. Properly positioning spastic limbs helps prevent contractures.
Symptoms of spasticity include:
Stiffness or tightness of muscles and joints
Painful muscle spasms or cramping of muscles
Involuntary (uncontrollable) jerking motions
Exaggerated deep-tendon reflexes (knee-jerk reflex)
Abnormal position of the arm; tight fist, bent elbow and arm pressed against the chest
Abnormal position of the legs; crossing the legs as the tips of scissors would close (scissoring)
---
What Do You Need to Know?
Spasticity is out of your loved one's control. Things that trigger spasticity or make it worse are:
Pain (pressure sores)
Infections (bladder, toenail, ear)
Cold temperatures
Constipation
Fatigue or stress
---
What Treatments Should You Discuss with Your Healthcare Team?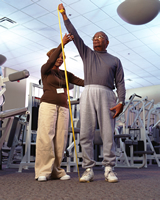 Your loved one's needs determine the type of treatment. Often, treatment involves a mix of therapy and medicine. The goals are to relieve symptoms, reduce pain and improve movement.

Physical exercise and stretching – This will help loosen stiff muscles. A physical therapist works with your loved one. Often, this includes full range of motion exercises several times a week. Gentle stretching of tight muscles may be needed. The physical therapist may suggest constraint-induced movement therapy (CIMT). CIMT involves restricting movement in the unaffected arm to force the use of the affected arm. The American Stroke Association Web site has more information on CIMT. You can find the link in the Resources section.

Braces and splints – These assistive devices hold the muscles in a more normal position. This helps to prevent contractures and improve comfort.

Oral medicines – There are medicines to treat the effects of spasticity. Some work to temporarily block nerve impulses. Others work to relax the muscles. Talk to your healthcare team about medicines for your loved one.

Injections of a medicine – Medicines, such as Botox®** help to block nerve activity. This loosens the muscles. Intrathecal baclofen therapy (ITB) is used to treat severe spasticity. A surgically placed pump delivers baclofen** into the spinal fluid. Baclofen is a medicine that relaxes the muscles.

Surgery – This is often the last choice for treating severe, chronic spasticity. It involves operating on the bones, muscles or nerves. Surgery works to block pain and restore some movement.
---
Helpful Tips
Encourage your loved one to remain active – Exercise and stretching can help ease symptoms and maintain movement. Reinforce using the affected arm as much as possible for daily tasks.

Properly position spastic limbs to prevent contractures – Proper positioning can keep affected limbs from becoming fixed into a set position. The physical therapist can teach you proper positioning.

Watch for skin breakdown – Spasticity in the fingers can cause the nails to tear into the skin. Spastic limbs may rub against each other. Check the skin regularly for any redness or sores. A good time to do this is during bath time. Talk to your healthcare team about any concerns.

Listen and be supportive – Spasticity can be mentally and physically stressful. Allow your loved one to express his or her feelings.
---
Remember
Spasticity develops slowly over weeks or months. Tell your healthcare team if your loved one shows signs of spasticity.
Check the skin regularly for skin breakdown. Talk to your healthcare team about any concerns.
Talk to the physical therapist about how to properly position spastic limbs to prevent contractures.
---
More Resources
Additional credible resources on this topic can be found here. Website pages may change or update, therefore if a link does not work, you may also try to type the information into your internet search bar. This Resource List will be updated frequently.
*Link Disclaimer: Links to information and Web sites outside of the Department of Veterans Affairs do not indicate an endorsement of products or services offered by the sites. In addition, these sites may have privacy and security policies that are inconsistent with those of VA.

**Brand Name and Medicine Disclaimer: Brand names and types of medicines are provided as examples only. Their inclusion does not mean that these products are endorsed by VA or any other Government agency. Also, if a particular brand name is not mentioned, this does not mean or imply that the product is unsatisfactory.

Download a free version of Adobe Reader* to view PDF files.
---
References: American Stroke Association. (2008). Spasticity. Retrieved February 13, 2009, from: http://www.strokeassociation.org/print_presenter.jhtml?identifier=3004666*; National Stroke Association. (2009). Mobility: Regaining Independence. Retrieved February 13, 2009, from: http://www.stroke.org/site/PageServer?pagename=mobility*; National Stroke Association. (n.d.). Hope: The Stroke Recovery Guide. Retrieved February 17, 2009, from: http://www.stroke.org/site/PageServer?pagename=HOPE*; We Move. (2009). Overview of Spasticity. Retrieved February 13, 2009, from: http://www.wemove.org/spa/spa_overview.html*
---
These materials were created for the project:
Web-Based Informational Materials for Caregivers of Veterans Post-Stroke
Project Number SDP 06-327 funded by VA HSR&D Quality Enhancement Research Initiative (QUERI)
return to top